WITH the burden of having to find ways to sustain and replenish the nation's coffers lifted from his chest, former Finance Minister Tengku Datuk Seri Zafrul Abdul Abdul Aziz flew off to Penang with his wife on budget airline Lion Air yesterday (Nov 27) – probably having taken a page out of Prime Minister Datuk Seri Anwar Ibrahim's book of austerity.
"Off to Penang with wife … only both of us this time, wanting to spend some quality time together," he penned in his latest Facebook post. "Penangites please suggest the best places for dating!"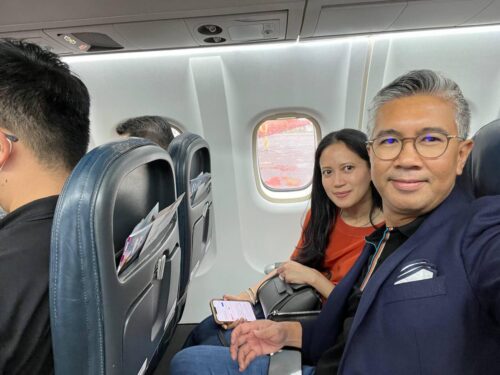 The high-flying corporate figure gave up his prestigious position as the CEO of CIMB Group Holdings Bhd on March 9, 2020 to succeed Lim Guan Eng as Finance Minister following the toppling of the 22-month-old Pakatan Harapan (PH) administration that stemmed from the Sheraton Move defection.
In fact, Tengku Zafruk could have remained 'dignified' even as an outgoing Finance Minister but alas, he chosen to go for the broke by vying for the Kuala Selangor Parliamentary seat, only to prompt incumbent and former Health Minister Datuk Seri Dr Dzulkefly Ahmad to return to politics to teach him a lesson on humility.
As if rubbing salt on an open wound, Dr Dzulkefly went on to describe his victory in defending the Kuala Selangor seat in the 15th General Election (GE15) as proof that even candidates who are "backed by money" could lose.
"The win is especially sweet when a candidate whose strength lies in money is defeated," Dr Dzulkefly who is also the Parti Amanah Negara strategic director said after defeating his UMNO-Barisan Nasional (BN) opponent with a majority of 1,002 votes in a four-cornered fight (Dr Dzulkefly polled 31,033 votes against Tengku Zafrul's 30,031 votes).
Now that the 49-year-old Tengku Zafrul has all the time in the world to ponder about his future, one wonders whether he would accept his GE15 fate that politics "ain't his cup of tea" to resume life as a corporate or to join his UMNO comrade and former Health Minister Khairy Jamaluddin in a possible "early retirement".
Tengku Zafrul is no Khairy
In a jest, Khairy has recently responded to an Instagram post by former DAP-PH Bangi MP Ong Kian Ming (who was having a meal with his comrade and former Damansara MP Tony Pua) with the kicker "Two unemployed guys enjoying our rest!" to "Please include me next time".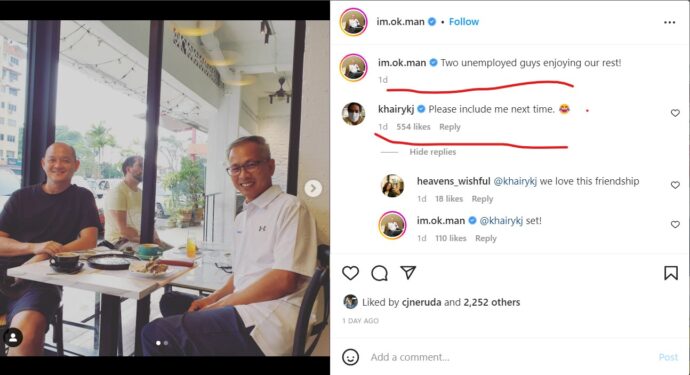 Unlike Tengku Zafrul who is a newbie politician with Kuala Selangor being his maiden attempt, it has to be borne in mind that Khairy who is three years Tengku Zafrul's junior is a seasoned politician. Despite being hailed as a forerunner, Khairy lost in the race for the Sungai Buloh seat to PKR-PH's Datuk R. Ramanan.
Recall that the former leader of the infamous 'Fourth Floor Boys" during the administration of his father-in-law Tun Abdullah Ahmad Badawi served as the Youth and Sports Minister during the administration of now incarcerated ex-premier Datuk Seri Najib Razak from May 2013 to May 2018.
Khairy was also a three-term Rembau MP before being parachuted to Sungai Buloh.
And to sarcastically put it, it will be difficult for Tengku Zaftul to match Khairy's personality as a gutsy and feisty politician who does not mind taking on his party superiors.
"Negotiations on the formation of a new government cannot involve (Datuk Seri Ahmad) Zahid Hamidi. He no longer has the moral legitimacy as UMNO president and must step down immediately," penned Khairy in an earlier Facebook post.
"He may be president in name but he has no moral authority left to decide on behalf of UMNO … I am still a member of UMNO. UMNO members have the right to speak."
In 2018, Khairy even went to the extent of challenging Zahid for the UMNO president post for the 2018-2021 term but lost 78-53 (with UMNO Gua Musang Division head Tengku Razaleigh Hamzah having polled 28 votes). – Nov 28, 2022
https://focusmalaysia.my/will-ge15-loss-prompt-tengku-zafrul-to-go-back-to-corporate-life/