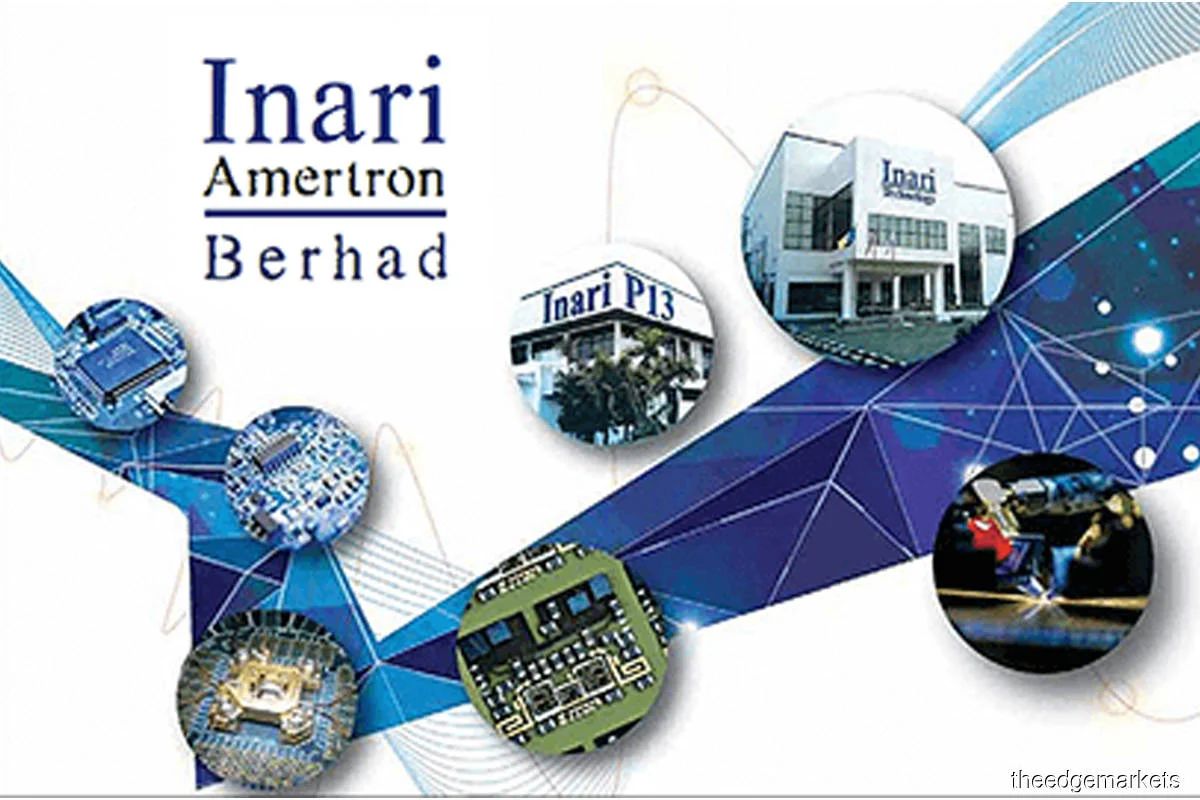 Knee-jerk reaction on Inari shares as Apple reportedly plans to drop Broadcom chip from devices
KUALA LUMPUR (Jan 10): Inari Amertron Bhd, which saw its stock price fall by as much as 25 sen or 8.9% to an intraday low of RM2.55 on Tuesday (Jan 10), is unlikely to be affected by news that consumer electronics giant Apple Inc might be dropping Broadcom Inc's chip from its devices.
Nonetheless, certain quarters believe Inari's short-term earnings prospects are not that rosy. Like many chipmakers worldwide, the group is expected to see a slowdown in new orders as smart devices sales are likely to be weaker.
At the closing bell, Inari — which was among the top losers on Bursa — declined 16 sen or 5.7% to settle at RM2.64, with about 30.17 million shares changing hands. Based on its closing price, the technology company is valued at RM9.85 billion.
Citing people familiar with the matter, Bloomberg News reported on Tuesday that Apple plans to replace Broadcom's Wi-Fi and Bluetooth chips, replacing the key chips with an in-house design by 2025.
It should be noted that Broadcom also supplies other components to Apple — including radio-frequency (RF) chips and ones that handle wireless charging — though the iPhone maker has been working on customising those parts as well.
Nevertheless, Stacy Rasgon, an analyst with financial services firm AB Bernstein, told Reuters that Apple's decision is still likely to hit Broadcom's revenue by about US$1 billion (RM4.37 billion) to US$1.5 billion.
But Rasgon stressed that Broadcom's RF chips are complex to design and manufacture, and therefore, replacement is unlikely in the short term.
A channel check by The Edge, however, showed that Inari's exposure to Broadcom's business is more on RF chips. In short, Inari should see muted impact, even if Broadcom's Wi-Fi and Bluetooth chips were to be replaced.
According to CGS-CIMB's report on Nov 25, 2022, Inari expects to see a pick-up in RF utilisation to 80%-85% in the second quarter ended Dec 31, 2022 (2QFY2023), driven by better sales mix for newer-generation models, which require a longer testing period due to higher RF content value.
The research firm learned from Inari's management that the country's largest outsourced semiconductor assembly and testing (OSAT) player is targeting revenue of more than RM1 billion in the RF division in the financial year ended June 30, 2024 (FY2024).
It is an open secret that Inari is heavily dependent on US fabless chip designer Broadcom, which is a key component supplier to Apple.
For perspective, Singapore remains Inari's largest geographical market, accounting for 86% of the group's revenue for the financial year ended June 30, 2022 (FY2022), followed by China (8%) and Malaysia (5%).
The Edge Malaysia weekly in its Sept 12-18, 2022 issue reported that most market watchers generally assume that a large portion of Inari's Singapore revenue actually comes from Broadcom, which operates its Asean sales office in the city state.
Notably, Apple is Broadcom's largest customer, accounting for about 20% of the chip maker's revenue for the last fiscal year, which totalled nearly US$7 billion.
Inari's profits have almost matched those of the two US tech heavyweights over the past five years. To illustrate, Inari's profits grew at a compound annual growth rate of 13% between FY2017 and FY2022, compared with Apple's 16% and Broadcom's 32%.
Concern from investors Apple may slowly replace other chips, including RF chips
From the perspective of local analysts, investors are concerned that Apple may slowly replace other chips, including RF chips, with its own designs in the future. This may partly explain Inari's recent share price weakness.
"[But], I don't think that Inari is under panic selling. Many big funds are still holding on to their Inari shares for the longer term," TA Investment Management Bhd chief investment officer Choo Swee Kee told The Edge.
He pointed out that there is an oversupply in the semiconductor chip market, especially for the smartphone and personal computers (PC) markets, which will affect Inari.
"Inari will have to ride through this excess supply cycle and the outlook may turn more positive once supply tightens again. We expect this process may take one year," Choo explained.
Inari saw its share price drop RM1.61 or 38% from its peak of RM4.25 on Nov 19, 2021. The counter is currently trading at a historical price-earnings ratio of 25.1 times, while offering a dividend yield of 3.7%.
Mercury Securities Sdn Bhd analyst Ronnie Tan commented, "Inari's stock valuation is still not attractive enough, despite long-term fundamentals remaining intact."
Other analysts contacted by The Edge declined to comment as they seek more clarity from the company's management about the impact of the Apple-Broadcom announcement.
Inari has 13 'buy' calls, seven 'hold' recommendations and one 'sell' rating with a consensus 12-month target price (TP) of RM3.12, Bloomberg data showed.
BIMB Securities Sdn Bhd rated the stock with the highest TP of RM3.75, whereas the lowest TP of RM2.48 came from Hong Leong Investment Bank Bhd.