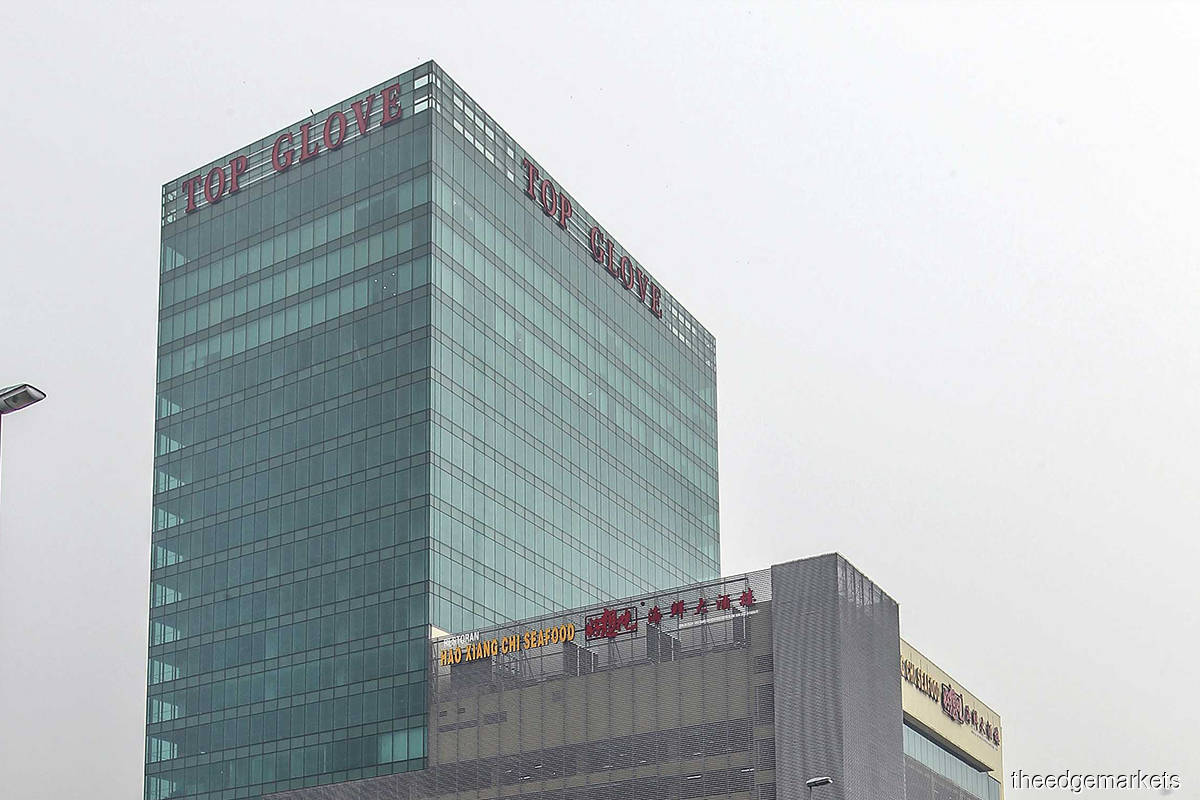 KUALA LUMPUR (Dec 13): Top Glove Corp Bhd, which has been in the red for two straight quarters, expects at least another loss-making quarter ahead, before it can return to profitability — probably in the next nine to 12 months — amid a persisting supply glut that has sent prices tumbling to their "lowest in history".
"When the company is loss making, it means that sales revenue is lower than costs of production. We have implemented many steps to reduce our costs, and [the cost structure] is much better than three months ago. So the loss will be less going forward, and we have to increase sales revenue [to get back to profitability].
"My estimate is that our loss will be reduced in the next three months. In another six months, we should be able to break even. Nine to 12 months from now, we should be able to make some profit," Top Glove chairman and founder Tan Sri Lim Wee Chai told a virtual press briefing in conjunction with the release of the company's quarterly earnings.
In view of competition and oversupply in the industry, Lim noted that nitrile gloves are now selling for as low as US$14 (RM61.48) per 1,000 pieces.
"The average selling price for nitrile gloves is already at the bottom, because the lowest market selling price from Malaysia's manufacturers is US$17 [per 1,000 pieces], while Chinese players are selling [at] US$14 and US$15. I think in the history of nitrile gloves, this is the lowest. So, to us, we think it should have bottomed. If not bottom, there is not much room for reduction anymore. Most players are now in the loss-making position, including China, Thailand and Malaysia, even Vietnam, if they are selling nitrile gloves at this price," he said.
On a more positive note, Top Glove is seeing some increase in orders, Lim said, as customers slowly deplete their glove stocks. This is expected to lift the group's manufacturing plant utilisation rate.
"Orders started to come in in December and (we expect more in) January [next year], so we can see the plant's utilisation rate increase to about 40% from 30% in the first quarter of our financial year (1QFY2023)... There's some light at end of the tunnel.
This was evidenced by customers' inventory level on hand, with visibility of an average of one to two months, Lim said, down from an average of three to five months over the past six months.
Top Glove started its first quarter of FY2023 with net loss widening to RM168.24 million from RM52.59 million, as revenue for the three months ended Nov 30, 2022 dropped 36.11% to RM632.53 million from RM990.1 million, dragged by lower sales and lower average selling prices of its products.
Sales volume or quantity sold has eased by about 48% from the corresponding quarter last year (1QFY2022), when the group made a net profit of RM185.72 million on a revenue of RM1.61 billion.
No dividend was declared for the quarter under review.
Top Glove's share price closed unchanged at 78.5 sen on Wednesday, giving the group a market capitalisation of RM6.44 billion.